Venue Information
Our Venue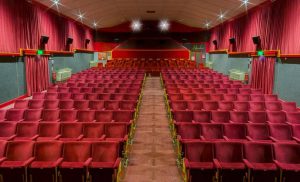 About Us
Leiston Film Theatre, or Leiston Picture House as it was originally named, opened in October 1914 and has traded continuously for 109 years.
Following a decline in cinema attendances in the 1970's, the venue was saved from closure in 1976 by Leiston Town Council, who have invested in carefully updating the building to meet the expectations of today's cinema audiences.
Despite being Suffolk's oldest surviving purpose built cinema, this versatile venue boasts a very comfortable 252 seat auditorium, with a choice of standard, cuddle or premier seating and features Dolby Digital 7.1 Surround EX sound and the very latest in digital projection, including the superior Dolby 3D experience.
Leiston Film Theatre was shortlisted for the prestigious Cinema of the Year award at the 2015 Screen Awards, was awarded the title of Cinema of the Year 2018 – Suffolk, by CV Magazine's Excellence Awards and was awarded a Travellers' Choice award from Trip Advisor, in recognition of receiving such consistently positive reviews on the popular traveler website. Please feel free to leave your own glowing review by clicking here.
Most recently, new, larger toilets have been introduced and the foyer has been significantly enlarged and refurbished, to include the introduction of a Visitor Information Point.
We hope you enjoy your visit to Leiston Film Theatre.
Film Classifications

U  Suitable for all.
PG  Parental guidance Recommended.
12A  Ages 12 and over. Under 12's may be admitted when accompanied by an adult aged 18+.
15  Ages 15 and over.
18  Ages 18 and over.
Proof of age may be requested.
Further information at: www.bbfc.co.uk
Cinema Admission Prices

Adult: £9.00 (aged 15 and over)
Child: £6.00 (aged 14 and under)
Senior: £8.00 (aged 65 and over)
A £1.80 surcharge is applicable for all tickets for 3D screenings and includes returnable Dolby 3D glasses.
Tickets are non-refundable. However, tickets may be exchanged for an alternative performance of the same film. A transfer fee of £1.50 per ticket is charged for this service.
Admission prices for event cinema vary.
Please ask for the correct ticket type at the time of purchase, as errors cannot be amended once tickets are issued.
Premier and Cuddle Seats

Premier seats are available for customers aged 18 and over and are subject to a £2.50 surcharge. These popular chairs are positioned at the rear of the auditorium, offer unrestricted viewing, are wider, with higher backs, a table for your cinema snacks and generous legroom.
Cuddle seats are available as pairs, to customers aged 16 and over and are subject to a £2.00 surcharge per seat. These chairs are the width of two standard seats without the central armrest.
Movie Munchies and Theatre Showbar
You'll be spoilt for choice with our selection of sweets, snacks, ice creams, drinks and popcorn, of course!
Our Showbar is stocked with a selection of wines, beers, spirits and even cocktails.
Proof of age may be requested.
Box Office Opening Hours

Mornings: Mon – Fri: 10.00am – 1.00pm.
Evenings: 7.00pm – 9.00pm.
During holiday periods, the box office may be open during the afternoon and early evening when a matinee screening is programmed.
Alternatively, you can book your seats at any time online by clicking here. Please note: Online bookings for films and live shows closes one hour prior to show times.
Advance Booking

You can book your seats in advance for all films and live shows, either in person at the box office or by telephone on 01728 830549, during box office opening hours, and online by clicking here. Tickets must be paid for at the time of purchase and a booking fee of £1.00 per ticket is applicable to all telephone and online bookings, for 'physical' tickets, to be collected from the box office. Alternatively, eTickets can be purchased online only and are subject to a booking fee of 80p per ticket. If booking an eTicket, please ensure to show the relevant QR code at the box office on arrival, so that staff can scan your ticket.
If you wish to book a wheelchair space then please contact the box office directly, as these are unavailable for online booking.
Digital Projection, Dolby 3D and Dolby 7.1 Surround EX sound
You won't believe your eyes and ears! Emerse yourself with Dolby Digital 7.1 Surround EX sound and crystal clear digital projection and eye-popping 3D.
Wheelchair Access

The box office, foyer and toilets are fully accessible. There are three wheelchair spaces available for each performance. The box office features a lower counter and the auditorium is accessible to wheelchair users via a ramp in the foyer. Please contact the box office directly on 01728 830549 during box office opening hours, if you wish to book a wheelchair space, as these spaces are unavailable for booking online. Please make staff aware of any specific requirements at the time of booking.
Parking

There are various places to park whilst visiting Leiston Film Theatre. The most popular car park is located in the High Street, adjacent to the cinema. This car park is free in the evenings from 6.00pm.
CEA Card Scheme

The CEA card entitles the holder to one complimentary ticket for their accompanying carer. For further information, please visit the CEA card website at: www.ceacard.co.uk.
CEA cards can only be accepted for standard film performances and cannot be used for event cinema, or live shows.
Meerkat Movies

Leiston Film Theatre is pleased to participate in the Meekat Movies reward scheme, for customers of comparethemarket.com, offering 2-for-1 cinema tickets every Tuesday or Wednesday for a whole year when you buy a qualifying product*
*For Full terms and conditions please visit: http://www.comparethemarket.com/information/meerkat-movies-terms/
Loyalty Card Scheme

Leiston Film Theatre is the only local cinema to offer a loyalty card scheme. Loyalty cards are available to any customer and are valid for 12 months from the date of issue. Collect eleven loyalty card stamps (one per visit) and on your twelfth visit, you can enjoy the film for FREE!
Loyalty cards are subject to availability and may only be stamped for full price regular film programmes and not live shows, special events, discounted promotions or when using a gift voucher.
Gift Vouchers

Gift vouchers can be purchased in person from the box office, or by telephone on 01728 830549 and are available as £5, £10, £15 and £20 vouchers.
Gift vouchers can be used against tickets for cinema and live theatre and are valid for 12 months from the date of issue.
And there's more …
Induction loop system for the hard of hearing.
Free booster seats for movie juniors.
Theatre hire available.
Costume hire service.
Smoking (including e-cigarettes) is not permitted in any part in the building.

The sound was excellent and the cinema very clean and comfortable. The team here clearly look after their cinema with great care an attention.

We had premier seats at the back and would highly recommend spending the extra for these. Really comfortable, masses of legroom and your own table for drinks

A true gem of a cinema! Leiston Film Theatre is an absolute delight. I would highly recommend Leiston Film Theatre.
Leiston Film Theatre
Suffolk's oldest purpose built cinema
74 High Street,
Leiston,
Suffolk.
IP16 4BZ
01728 830549